Animations at the camping
The kid's club for fun!
Activities all week long!
Open in July-August from Monday to Friday
For children from 4 to 12 years old
The club promises your children unforgettable afternoons with their holiday friends. Treasure hunts, cooking or make-up workshops, multi-sports tournaments… Laughs and memories guaranteed!
Perdigat also has a swimming pool, children's games, a fishing pond, canoe trips… See activites and leisure on site
Outdoor activities
Archery afternoons
Supervised by Xavier, a passionate and exciting archer, young and old alike will be able to learn or perfect the handling of different bows.
As the summer progresses…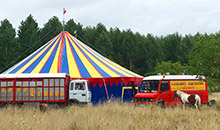 In high season, additional entertainment can be organised.
We will keep you informed about special events!
Welcome drink
Every  Monday evening in the summer, we welcome each other over a glass of friendship. Presentation of the Perdigat team, activities and animations of the campsite. Meeting under the sign of conviviality.
Tasting of local products
Every Sunday in summer at noon, discover or rediscover the products for which the Périgord is famous. The producer Laurent Collet will make you taste his delicious home-made products: foie gras, dried duck breast, terrines… accompanied by the AOC Bergerac, Montbazillac and Pécharmant du Château Marnière wines presented and explained by Bruno. Wines to be consumed of course with moderation but delight!